October 7, 2023 Annual Conference Session
Your Guide to the October 7th Session, 2023
The last Special Called Annual Conference in the Virginia Conference to consider local church disaffiliation under Paragraph 2553 of the Book of Discipline  is scheduled for Saturday, October 7, 2023 at 9 a.m. via Zoom webinar.
At 8:30 a.m., an optional Q&A will be held for any members who have questions concerning the Special Annual Conference.
At 9 a.m., the Annual Conference session will convene to consider the ratification of 120 local churches that seek to disaffiliate from The United Methodist Church over matters of human sexuality using Paragraph 2553 of the Book of Discipline.
Please review the information below in order to prepare:
View the Disaffiliation Reporting Guide. This guide includes the agenda for the Annual Conference session, the list of 120 disaffiliating churches and their statistics, a list of clergy withdrawals, and a Frequently Asked Questions (FAQ) document about disaffiliation.
Voting credentials and information to log on to the Annual Conference session will be sent to Annual Conference member emails on Thursday, September 28. These credentials will allow members to both join and fully participate in the 8:30 a.m. Q&A and 9 a.m. Annual Conference session.

Please note: Members have until 4:30 p.m. on Thursday, October 5 to ensure they have received their Zoom credentials to the correct email address. Troubleshooting credential issues will not be handled past this deadline.

In order to access the Annual Conference session, each voting member needs to have their own unique email address. (For example, two voting members cannot share an email address and both have an individual vote at the Annual Conference session). Members can make changes to their contact information through the UnityWeb Database. Changes can be made now until September 27 so credentials can be sent on time.
The Annual Conference session will be using the Zoom Webinar platform. All devices capable of accessing this platform will be able to log on whether Apple or Android phone, tablet or laptop/desktop devices.
Members should contact Zoom Support during the October 7 Annual Conference should they need technical assistance at https://support.zoom.us/hc/en-us.
A livestream will be available to non-members to view the proceedings. The link will be made available on this page closer to the event.
Questions concerning the logistics of the Special Annual Conference may be directed to Dwayne Stinson, [email protected].
Conference clergy members and lay members received an email from Rev. Joshua King, Conference Secretary, on Monday, August 14 as a reminder to share through a Google form if they will be absent from the October 7 virtual Annual Conference. Questions may be sent to [email protected].
All Annual Conference-related information will be posted on this page. 
Livestream available below on October 7: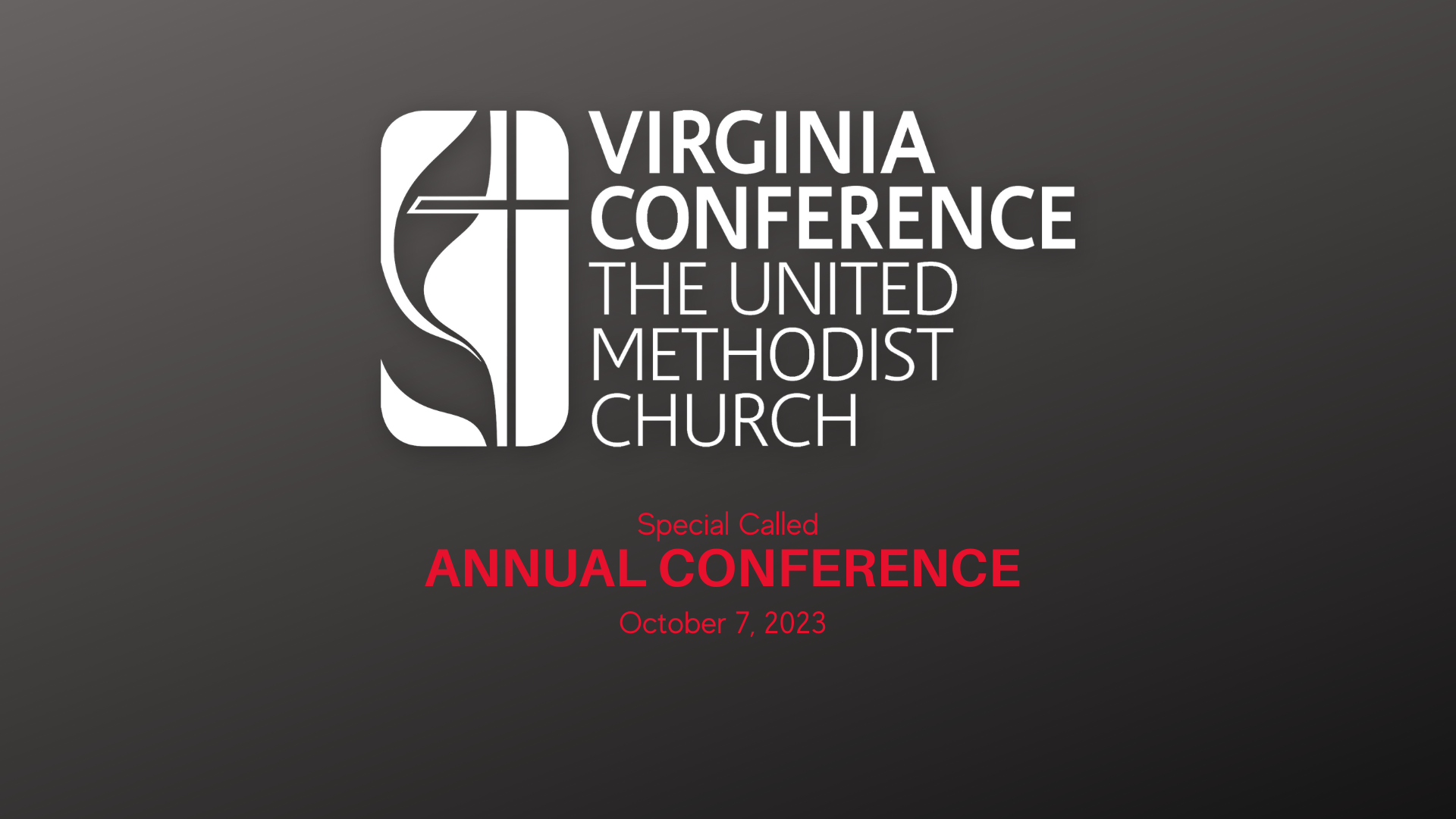 Skunk on the Table episode discusses disaffiliation
Skunk on the Table is a video, podcast and article series focused on simple and clear conversations about topics of interest to the conference and denomination. In this episode, David Dommisse, Conference Treasurer, answers questions related to disaffiliation in the Virginia Conference and the financial impacts. David shared that "we are still very stable financially, we are going to lose roughly 11% of the financial capacity of the conference through disaffiliations…that's a significant number, but one we can handle…we've done a good job managing, we will have to make significant changes, but we're coming from a place of relative strenght and I believe we will continue to be strong into the future."
Also joining the conversation is Dwayne Stinson, Director of Connectional Ministries for Discipleship and Congregational Vitality, who shares that "the future of the conference is on mission and ministry…I'm hoping we can renew our focus on how we share the Gospel with people in a way that shows them Jesus loves them and invites them to follow the call that God has for them and has equipped [them for]…that's my hope that we can get back to our actual mission as a denomination and [as] Christians."