To submit news items, events, or corrections, email the conference Communications Office at

[email protected]

.
August 24, 2021
How can you take part in learning, influencing, and serving

this week?
How can you be a lifelong learner?
The Book of Discipline constitutes the law and doctrine of the United Methodist Church. It follows similar works for its predecessor denominations. It was originally published in 1784, in the Methodist Episcopal Church, and has been published every four years thereafter following the meeting of the General Conference, which passes legislation that is included in the Book of Discipline. The most recent edition is that of 2016. Free online editions of both the Book of Discipline are available from Cokesbury. Foundational documents, including the doctrinal statements and the Social Principles, are found in the What We Believe section. Learn more...

How can you be an

influencer

?
The Rev. RJ Jun, associate director of Serving, recently wrote, "In the span of a week, my Twitter feed was lighting up with the news with Haiti, Afghanistan, wildfire in California, and then the flood in Tennessee. Sometimes it feels like an unending cycle of 'tragic news' when we are in an unprecedented pandemic. We have the heart to help, but some might feel lost when there are so many tragedies to attend to when my backyard is on fire." Click here for view his reflection on responding to the call to serve without being overwhelmed. Read more...
Virginia

News
Please join in Thursday Evening Prayer Vigil for Haiti
The Virginia Conference will host a prayer vigil for Haiti on Thursday, August 26, at 7 pm on the conference's Facebook and YouTube pages.
Resources to help Afghan refugees
As the world witnesses the humanitarian crisis occurring in Afghanistan, the Virginia Conference is providing the resources to help aid your understanding and ability to care for refugees. Read more...
Resources to help Haiti in its effort to recover
As the world witnesses the humanitarian crisis occurring in Haiti, after the 7.2 magnitude earthquake that crippled an already vulnerable nation, the Virginia Conference is providing the following resources to help the church's effort to assist the Haitian people. Learn more...
Virginia United Methodists urged to pray, give and serve during humanitarian crises
The Virginia Conference asks United Methodists to continue in prayer as the tragedies caused by the humanitarian crises in this world are witnessed. Use the prayer resources during worship that were shared through the recent statement by Bishop Lewis. Offerings can make a direct impact in the relief effort and discover ways to serve by helping people in crisis as the hands and feet of Jesus. Learn more...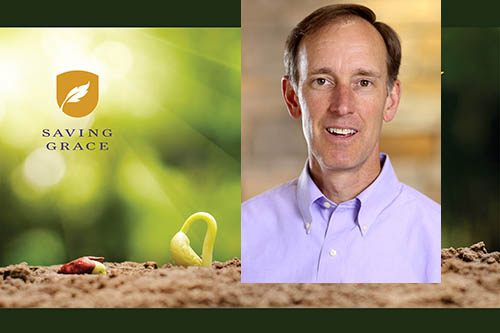 Wesleyan take on personal finance
Jesus talked a lot about money. So did John Wesley, Methodism's founder. Now there's a money-management program meant to reflect Wesleyan Christian values, one that draws on the expertise of a diverse group of United Methodists. It's called Saving Grace, and advocates say it fills a niche in the Christian personal finance advice field, which also features the Rev. Tom Berlin, pastor of Floris UMC, Herndon, VA. Berlin says Saving Grace is definitely Wesleyan, embodying the principles of do no harm, do all the good you can and stay in love with God. But he acknowledges it's a bit of a starter kit. "John Wesley would probably want all of us to go further in our discipleship related to money and wealth," Berlin said. Learn more...
Special and Sustaining Grant Applications for 2022
Applications are now available for the 2022 Common Table Special Grants and Sustaining Grants for local churches and ministries. Forms may be found at https://vaumc.org/special-and-sustaining-grants/ The deadline to receive complete applications (must include all supporting documentation and be signed by the District Superintendent) is October 15, 2021. Questions may be directed to Bev Myers at

[email protected]
Webinar: Preparing for a Post-COVID world
Wednesday, August 25, 2021, 1-2:30 p.m.
The Post-Covid Re-entry Group (PRG) invites all clergy, lay leaders, and PRG team members to join its next webinar on Wednesday, August 25, 2021 at 1 p.m. The Rev. Rachel Gilmore will be the featured speaker. Most churches have an annual back to church campaign that launches each fall to energize and regather the congregation after the slower summer season. This global pandemic has changed the way we do church and this fall, we need to re-launch in remarkably different ways. Join us in August for a relaunch webinar where we'll look at guiding principles as we plan for the fall, the new teams we need to have in place and how we can find margins in the midst of all of this for much-needed self-care after an exhausting year. Click here to register.

For more information please contact, the Rev. Seungsoo 'RJ' Jun, Associate Director of Serving
(804) 521-1137,

[email protected]

. Visit www.vaumc.org/prg for more information.
Study at Wesley YOUR way this Fall: Online, on Campus, or Hybrid
It's not too late to study at Wesley Theological Seminary this Fall! Classes start last week of August, and you can choose to study in person, online or in a blended class. Join Wesley for Hybrid Mondays or Weekends, and you can complete up to 6 credits with three on-campus sessions with coursework completed online. Find out more at https://www.wesleyseminary.edu/admissions/try-a-class-2/ or contact (202)885-8659/

[email protected]
Wesley invites congregations to apply for The Source Collaborative
The Source Collaborative, a Wesley initiative funded by the Lilly Endowment, Inc., seeks 10 UMC congregations who wish to thrive and grow in their community and context.

The Source Collaborative will help selected churches identify their own markers of thriving and empower them to create and implement a congregational change strategic plan with the help of a coach. Following a one-year community learning and self-assessment process, a grant and an additional year of coaching for implementation will be provided.

Application deadline is October 1, 2021. Click here to apply


United Methodist Women holding September Young Women's event

The Virginia Conference United Methodist Women (UMW) Young Women's Event "Faith with Intention" will be held Saturday, September 11, from 9 a.m. – 12 p.m. via Zoom. This is a time just for young women ages 18 to 40 for spiritual refreshment and growth; participants do not need to be a member of UMW, The UMC, or of any church.

Sponsored annually by the UMW, and normally held in-person over a 24-hour period with a registration fee, this year there is no charge for the three-hour Young Women's Event via Zoom.


The retreat leader, Pastor Ashley Isernhagen, will use John 15 to help attendees develop and grow in discipleship through intentional practices, such as developing a faith timeline, spiritual exercises for discernment, meditation, and discipleship mantras. Please register by September 8. For questions, please contact Marlene Dakita, Virginia Conference UMW Mission Coordinator for Membership, Nurture & Outreach (MNO), at

[email protected]

or 703-244-4524. Learn more...
Local churches urged to help conference reach offering goal

As of August 16, the Virginia Conference has reached the $79,000 mark with $121,000 left to go to reach the overall goal of $200,000 for the 2021 conference offering.


With every local church joining this effort toward the conference offering goal, the conference will have a bigger impact in addressing food insecurity in the Commonwealth and continuing global outreach through the Partnerships of Hope. You may use the Annual Conference video or share the online donation link. The VAUMC Treasurer's Office will continue to receive offerings until August 31.
General Church News
Funding for bishops improves but still shaky
UMNS--The fund that supports The United Methodist Church's bishops is no longer in immediate danger of going into the red. However, United Methodist financial leaders still warn of possible perils ahead for the Episcopal Fund — especially with a potential denominational split on the horizon. During an online meeting Aug. 20, the General Council on Finance and Administration board heard an update on the state of

the fund. Learn more...
Pay gap persists between clergywomen and men
GCOSROW — How do United Methodist clergywomen's salaries compare to their male counterparts? A report by the United Methodist Commission on the Status and Role of Women found clergywomen are faring a little better than in 2015, but more work is needed. In 2020, clergywomen made, on average, 11 percent less than clergymen. The General Commission on the Status and Role of Women has issued a report. Read report...
'Fearless' artist launches debut gospel album at 74
UMNS - Retired from working for decades with children with disabilities and their families, Dorcas Muranda now is focused on sharing her musical gifts. She recently launched her debut gospel album, "Dombo ndiJesu" ("Jesus Is the Rock"), at age 74. Muranda, a member of St. Paul United Methodist Church in Harare, Zimbabwe, said that although she has faced challenges and resistance, God has helped her succeed in accepting the call to music ministry. Read more...
One Last Word
Please send any issues or concerns to

[email protected]

. If you have issues with the formatting trying to forward (especially in Outlook), you can use the following link. More...